Scoop and Learn Ice Cream Cart by Leapfrog
Posted on:
29th November 2018
/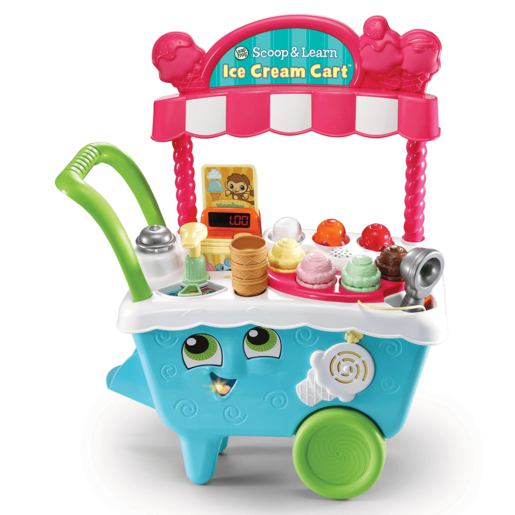 "Play and learn with the Leapfrog Scoop and Learn Ice Cream Cart. Meet a cast of six hungry characters by inserting activity cards to explore colours, counting, flavours and numbers and play a creativity and stacking game. Follow the animals' instructions and test your sequencing, memory and matching skills to build their orders – learn while you scoop! Press the bell when the order is ready and "pay" at the magic till. A great gift for ages two and up. Includes 20 playing pieces. Please note: 3 x AA batteries are included."
EAN: 3417766007032
Where can I buy LeapFrog Scoop & Learn Ice Cream Cart?
| Retailer | Price | Discount Code? | P&P | |
| --- | --- | --- | --- | --- |
| | £44.99 | No | Free* | |
| | £44.99 | No | £3.50 | |
| | £49.99 | No | Free | |
* Amazon offer free delivery if your are a Prime customer or spend over £10 on books or £20 on other products.
Learning is sweet when pretending to run your own Scoop & Learn Ice Cream Cart from LeapFrog! Create imaginative and tasty-looking ice cream combinations using delicious, realistic-looking ice cream flavours and toppings! Use the magic ice cream scooper to scoop and serve ice cream. The scooper will recognise the colours and flavours. Follow the order card instructions to build treats for six animal customers ranging from easy to hard challenges. Pretend to run your own ice cream cart. Push the cart and look for new customers. Includes four ice cream flavours (yellow vanilla, brown chocolate, pink strawberry and green mint), three toppings (orange sprinkles, red cherry sauce, white whipped cream) and three syrup flavours (blue blueberry, golden caramel and purple grape).
EAN: 3417766007032