Hatchimals Colleggtibles Nursery Playset
Posted on:
1st December 2017
/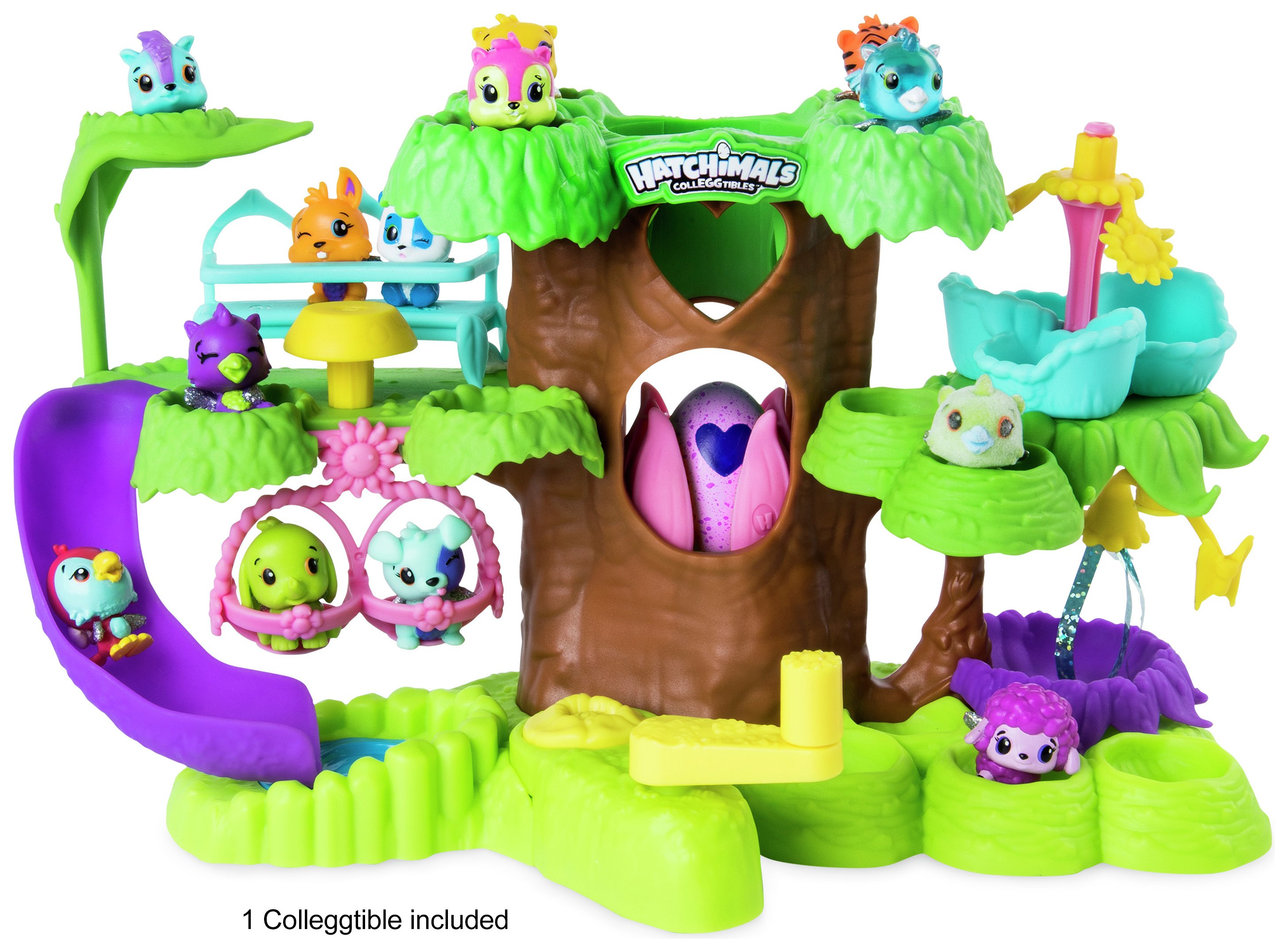 Hatchimal CollEGGtibles have a magical new place to play; Enter the Hatchery Nursery ; an enchanted forest where you can hatch and care for your CollEGGtibles; In the middle of this whimsical playset, youll find the Hatching Tree; Use it to help hatch the exclusive CollEGGtible included in this playset. Place the speckled egg inside a secret flower, hidden deep inside the hatching tree trunk. Spin the yellow handle and youll see the flower carry the egg up, up, up; Once it arrives at the top of tree, the purple petals will open and your cracked egg will emerge; Finish hatching by pressing down on the shell. Now you have a new CollEGGtible; With 35 places to play and display, theres room for your entire CollEGGtion; Koalabee, Kittycan and Penguala can swing off the tree hooks, grab a snack at the feeding station, take a nap in the spinning mobile, or hang out under the streamer shower; Send your extra-playful hatchimals down the slide, or give them a push on the swings. Hatch and care for your hatchimals Colleggtibles at the hatchery nursery; There are 35 places to play and display throughout this whimsical hatchihome; This special set comes with an exclusive Hatchimal CollEGGtible. Place the CollEGGtible inside the hatching tree and it will pop out the top with a cracked shell, ready for you to hatch; Use the spinning cribs, swings, slide, shower and more for magical Hatchimal fun; One supplied. Styles may vary. Size H25.4, W30.48, D13.34cm. For ages 5 years and over. WARNING(S): Not suitable for children under 3 years old. Only for domestic use. To be used under the direct supervision of an adult. This toy does not provide protection.
EAN: 778988665862
Where can I buy Hatchimals CollEGGtibles Hatchery Nursery Playset?
| Retailer | Price | Discount Code? | P&P | |
| --- | --- | --- | --- | --- |
| | £15.00 | No | Free* | |
| | £29.99 | No | £2.99 | |
* Amazon offer free delivery if your are a Prime customer or spend over £10 on books or £20 on other products.
"Hatchimal CollEGGtibles Hatchimals Nursery is a magical new way to play. Enter the Hatchery Nursery – an enchanted forest where you can hatch and care for your CollEGGtibles! In the middle of this whimsical playset, you'll find the Hatching Tree! Use it to help hatch the exclusive CollEGGtible included in this playset. Place the speckled egg inside a secret flower, hidden deep inside the Hatching Tree trunk. Spin the yellow handle and you'll see the flower carry the egg up, up, up! Once it arrives at the top of tree, the purple petals will open and your cracked egg will emerge! Finish hatching by pressing down on the shell. ! With 35 places to play and display, there's room for your entire collEGGtion! Koalabee, Kittycan and Penguala can swing off the tree hooks, grab a snack at the feeding station, take a nap in the spinning mobile, or hang out under the streamer shower! This Hatchimals playset's ideal for ages five and up. What's in the box? 1 x Hatchery Nirsery playset 1 x Hatchimals CollEGGtible 1 x assembly instructions "
EAN: 778988665862