Hearing Things Game
Posted on:
10th December 2018
/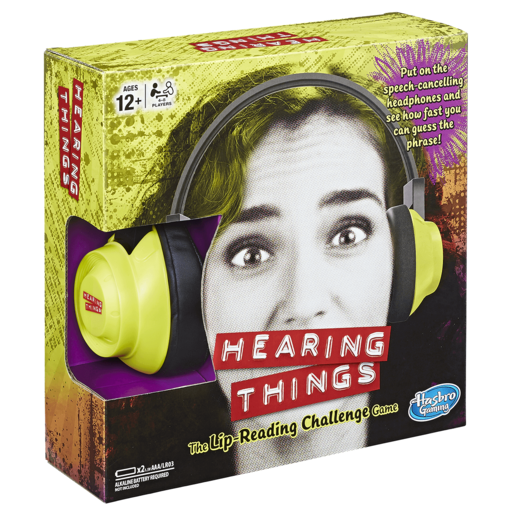 "What did you say? That's the name of the game with Hearing Things!Whether you fancy yourself as a talented lip reader or you just like having a great time, this game is a lot of fun. Guess what your teammate's saying to really impress your friends and family.The set comes with a pair of speech-cancelling headphones, which has built-in sounds and a timer. One player puts on the headphones and the other reads what's written on the card they draw.Funny random phrases include things like "pigeons like to cuddle" and "you're the champ of the camp". With the headphones cancelling out the noise, can you figure out what your teammate's saying to win the card? Perfect for tremendous tongue twisters aged 12 and up.
Includes: 1 set of headphones and 150 cards plus game guide
EAN: 5010993477005
Where can I buy Hearing Things Game?
| Retailer | Price | Discount Code? | P&P | |
| --- | --- | --- | --- | --- |
| | £16.58 | No | Free* | |
| | £20.00 | No | £2.99 | |
* Amazon offer free delivery if your are a Prime customer or spend over £10 on books or £20 on other products.
"What did you say? That's the name of the game with Hearing Things!Whether you fancy yourself as a talented lip reader or you just like having a great time, this game is a lot of fun. Guess what your teammate's saying to really impress your friends and family.The set comes with a pair of speech-cancelling headphones, which has built-in sounds and a timer. One player puts on the headphones and the other reads what's written on the card they draw.Funny random phrases include things like "pigeons like to cuddle" and "you're the champ of the camp". With the headphones cancelling out the noise, can you figure out what your teammate's saying to win the card?Perfect for tremendous tongue twisters aged 12 and up.Includes:1 set of headphones150 cardsGame guide"
EAN: 5010993477005