Fortnite Monopoly Board Game
Posted on:
8th December 2018
/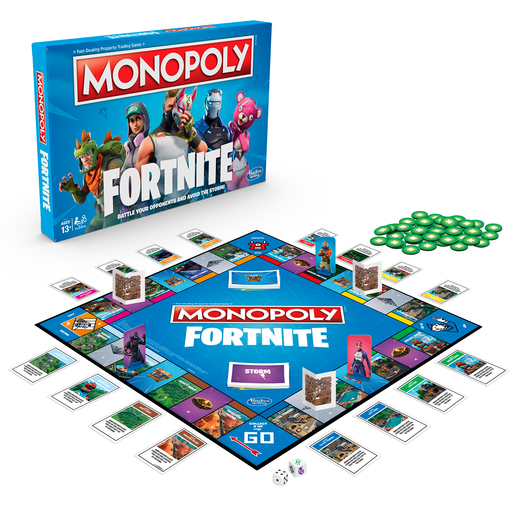 Multiplayer survival is coming to a board near you with the Monopoly: Fortnite Edition Board Game. Your favourite drop locations are now hot property ready for you to snap up, will you head for the Titled Towers, or play it safe and land yourself a nice pad on the Snobby Shores? Use your map knowledge to get the drop on your opponents. There are 27 different outfits to choose from, so you can be sure you're winning in style. Rather than money, it's your HP that you need to keep topped up. There's even the mighty Storm to keep up with.
This is Monopoly as you've never seen it before. Battle it out with up to 7 players. Cruise around the board, unlocking chests and taking risks – will you be the last man standing? Perfect for Battle Royale veterans and novices aged 13 and over.
Please note: In the UK, the Video Standards council rate Fortnite as PEGI 12 for frequent scenes of mild violence. It is not suitable for persons under 12 years of age"
EAN: 5010993586974
Where can I buy Monopoly Fortnite Board Game?
| Retailer | Price | Discount Code? | P&P | |
| --- | --- | --- | --- | --- |
| | £14.90 | No | Free* | |
| | £18.99 | No | £3.50 | |
| | £22.00 | No | £2.99 | |
| | £30.00 | No | | |
* Amazon offer free delivery if your are a Prime customer or spend over £10 on books or £20 on other products.
Battle your opponents and avoid the storm! This is Monopoly like you've never seen it before! This Fortnite edition board game inspired by Fortnite video game sees you battling your opponents, claiming locations, earning health points and avoiding the storm. Pick your outfit and let the game begin.
EAN: 5010993586974